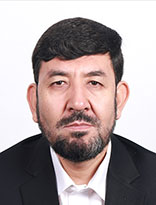 Dr. Abas Basir
Director General
Tel: +94 11 2589376
Fax: +94 11 25893699
E-mail: director.general@sacep.org
---
Dr. Abas Basir assumed duty as the Director General of the South Asia Co-operative Environment Programme (SACEP) from 2018. Before joining SACEP, he worked as a Senior Advisor to the Afghan President on Natural Resources and Environment at the ministerial level and as Lecturer in environment and water management studies in Afghanistan at a variety of universities, teaching both at a Masters and Undergraduate level. He also worked as Acting Director, International Cultural Relations Directorate, Ministry of Foreign Affairs, Afghanistan, Deputy Director General, National Environmental Protection Agency, Afghanistan, and Chief of Staff, Afghan Vice President Office. He has also served as Afghan diplomat. As a highly pragmatic individual with the ability to take initiative in resolving problems, he balance professional and personal development through reflective practice.
During this time and before, he had also experienced working with political parties and civil society organizations particularly those involved in environment protection activities. He has authored many publications in the fields of environment law and policy. One of his published books on environment law is now used as a text book by the universities as well as CSOs. During his carrier, he was mostly involved in developing and applying environmental law and policy and also public awareness. Having more than 25 years of work experience with government, civil society organizations, academia, political parties, diplomatic missions, and international organizations, he is a pragmatic individual with the high leadership capacity and ability to take initiative in resolving any problem.
Dr.Abas Basir received his Ph.D. in International Environment Law from Jawaharlal Nehru University, New Delhi, India in 2012. He got his first degree in Islamic Education and Science from International Centre for Islamic Studies, Iran in 1992. Then he obtained his MA in Law and Islamic Education from the International Centre for Islamic Studies, Iran in 2003 and M.Phil. in International Law from Jawaharlal Nehru University, New Delhi, India in 2009.
Employment History
2015-2018: Senior Advisor to Afghan President on Natural Resources and Environment
2016-2018: Member of the National High Council on Land and Water
2012-2018: Lecturer of environment and water management at universities in Afghanistan, at MA and Undergraduate Level.
2012-2014: Chief of Staff to the Vice President Office
2010-2012: Deputy Director General on Policy and International Relations, National Environment Protection Agency (NEPA)
2010: National Project Coordinator, GEF funded Medium Size Project entitled "Piloting Integrated Processes and Approaches to Facilitate National Reporting to Rio Conventions" (FNR - Rio) in Afghanistan.
2009-2010: Senior Advisor to NEPA on Policy and International Relations
2005-2009: First Secretary, Afghan Embassy, New Delhi, India
2003-2005: Director, Cultural Relations Office, Ministry of Foreign Affairs of Afghanistan.
International Conferences and Workshops Participated Before Joining SACEP:
International Conference on Dust and Sand Storms, Tehran, 2 July to 5, 2017;
Delhi Sustainable Development Summit 2011, New Delhi, 2-5 February 2011;
4th ECO Ministerial Meeting on Environment (Tehran, June 2011)
Sixteenth session of the COP and the Sixth Session of the CMP. UNFCCC, Cancun, Mexico, (29 Nov. 10 Dec. 2010) as the Head of Afghan Delegation;
Twelfth Session of the AD HOC WORKING GROUP ON LONG-TERM COOPERATIVE ACTION UNDER THE CONVENTION (UNFCCC) (Tianjin, China, 9 October 2010)
The Sixth Session of the Ministerial Conference on Environment and Development in Asia and the Pacific held in Astana from 27 to 2 October 2010;
Meeting of the 12th Governing Council of South Asia Cooperative Environment Program (SACEP) held in Colombo from 1 – 3 November 2010;
Bonn Climate Change Talks - August 2010, 2-6 August 2010 | Bonn, Germany
Bonn Climate Change Talks - May/June 2010, 31 May - 11 June 2010 | Bonn, Germany
SAARC Second Inter-Governmental Expert Group Meeting (March 2010) Kathmandu.
SAARC First Inter-Governmental Expert Group Meeting (January 2010), New Delhi
Meeting of Ministers, Economic and Social Commission for Asia and Pacific (MCED-6), (27 September- 2 October 2010), held in Astana Kazakhstan, as the head of Afghan Delegation.
UNEP Governing Council Meeting (February 2010), Bali, Malaysia:
COP 15, UNFCCC, Copenhagen (7-18 December 2009)
Eight Meeting of the SAARC Environment Ministers, New Delhi (October 2009)
Fourth GEF Assembly, Punta Del Este, Uruguay, June 2010)
Publications
Books
Liability for Environmental Damage with Special Reference to Armed Conflicts
Integrated Environment Management from the International Law Prospective
Legal Framework for environment Protection during Armed Conflicts;
Elections of the Constitutional Loya Jirga (2003)
Election Management: with a view on the International and Afghanistan Experinces
Articles
Islam and Environment
Climate Change; Impacts and Remedies
Trade and Environment
Environmental Impact Assessment on the Base of Afghanistan Environment Impact Assessment Rules
Designing a Sustainable City
Climate Change Financial Mechanism
Sustainable Development in Afghanistan
US Exit from Paris Agreement
World Efforts to Rescue the Earth.