Environment Ministers Meeting of the SACEP member states in COP venue, Glasgow, UK
---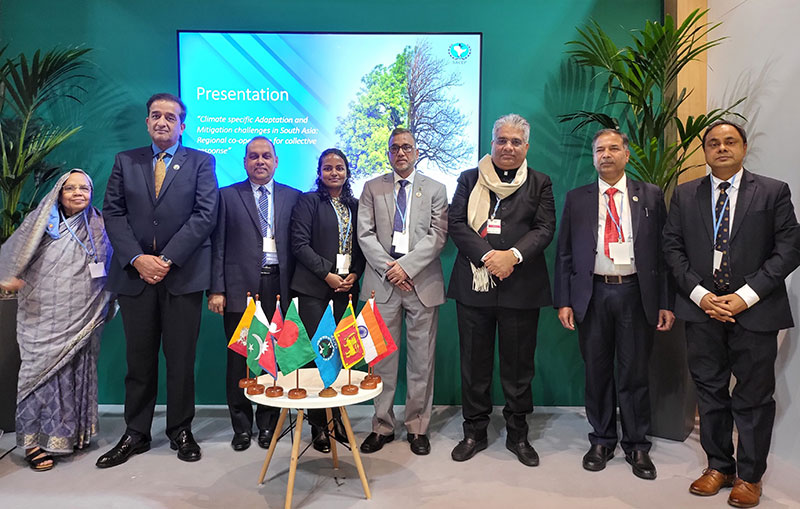 South Asia Cooperative Environment Programme (SACEP) in coordination with the Government of Bangladesh the current chair of the Governing Council of SACEP successfully concluded the Environment Ministers Meeting of the SACEP member states, under the theme "Climate specific Adaptation and Mitigation Challenges in South Asia: Regional Co-operation for collective response" during the UNFCCC, COP26 which is currently being held in Glasgow, United Kingdom.
The meeting was attended by Hon'ble Md. Shahab Uddin, Minister of Environment, Forest and Climate Change, Bangladesh and Present Chair of Governing Council of SACEP, Hon'ble Bhupender Yadav, Minister of Environment, Forest and Climate Change, Government of India, Her Excellency Aminath Shauna, Minister of Environment, Climate Change and Technology, Republic of Maldives, Hon'ble Ramsahay Prasad Yadav, Minister of Forests and Environment, Nepal, Hon'ble Malik Amin Aslam Khan, Minister for Climate Change, Islamic Republic of Pakistan and Hon'ble Mahinda Amaraweera, Minister of Environment, Sri Lanka. Dr Md Masumur Rahman, Director General, SACEP expressed his gratitude and honor to the all hon'ble Environment Ministers of SACEP's member countries for attending the meeting.
The meeting served as a networking platform for the Environment Ministers to Strengthen the regional dialogue on climate change adaptation and mitigation, exploring opportunities for joint actions among the Member States, identify regional perspectives and priorities related to Climate Change and act collaboratively to ensure the strongest possible actions are taken concerning climate resilience and critical environmental issues across the South Asia.