Message from the Director General Dr. Md. Masumur Rahman on the World Environment Day 2022
---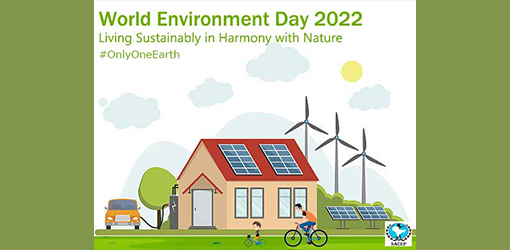 On behalf of the South Asia Cooperative Environment Program (SACEP), I would like to wish everyone a Happy World Environment Day 2022. This June 5th is a prime opportunity for all of us to recall that our region consists of about one-fourth of the world's population, while it houses a diverse range of ecosystems associated with numerous amount of flora and fauna species.
However, South Asia remains one of the world's most vulnerable regions to the adverse effects of climate change caused by the continued degradation of ecosystems and biodiversity. In the past two decades, more than half of all South Asians, or 750 million people, have been affected by at least one natural disaster such as flooding, drought, or cyclones. Based on current trends, losses in the region will average $160 billion annually by 2030. Apart from its hardest hit by climate change, rapid urbanization, affluent lifestyles, and increased demand for resources and services associated with economic growth are exerting increasing pressure on ecosystem resources. Also, increasing resource use, with little improvement in the efficiency of such use, is causing widespread environmental degradation, loss of ecosystem services, generation of excessive waste and additional financial burdens.
Furthermore, these adverse issues will complicate existing development and poverty reduction initiatives in our region. Therefore, addressing these issues would pay economic dividends, strengthening the growth potential and productivity of environmental assets. We must be vociferous about the cause of a healthy and clean environment and ensure that we all provide due priority to the cause, not only in policies and strategies but also in concentrated practical efforts.
The theme of this year's World Environment Day, "Only One Earth" wants us to celebrate the planet through collective environmental action. This advocate for transformative environmental change on a global scale and it shines a spotlight on climate action, nature action and pollution action while encouraging everyone, everywhere to live sustainably. While our individual consumption choices do make a difference, it is collective action that will create the transformative environmental change we need, so we can advance to a more sustainable and just Earth, where everyone can flourish.
Founded in 1982, SACEP in its four decades of existence as a pioneer regional intergovernmental organization in South Asia, played a vital role in safeguarding the prestigious environment of the region.
The 2030 Agenda for Sustainable Development also recognized regional organizations as key actors in coordinating the implementation, follow-up, and review process of the Sustainable Development Goals. This statement clearly highlights the importance of the roles that regional organizations like SACEP play in the achievement of the United Nations global goals by supporting its member states with the design of action plans for sustainable development, and monitoring the implementation of these commitments. Therefore, I am happy and proud to say that during the four decades of its existence, SACEP initiated a number of activities that were beneficial to the region as well as the global community.
To that end, SACEP looks forward to collaborating with all member states to accomplish the core objectives of our mission: "to support conservation and management of natural resources of the region and to work closely with all national, regional, and international institutions, governmental and non-governmental, as well as experts and groups engaged in such cooperation and conservation efforts."
Together we can way forward on the path to a world in which we can live at peace with nature, because we have Only One Earth. Let's take care of it!
Dr. Md. Masumur Rahman
Director General of South Asia Co-operative Environment Programme