SACEP participates in the Fourth Forum of Ministers and Environment Authorities of Asia and Pacific
---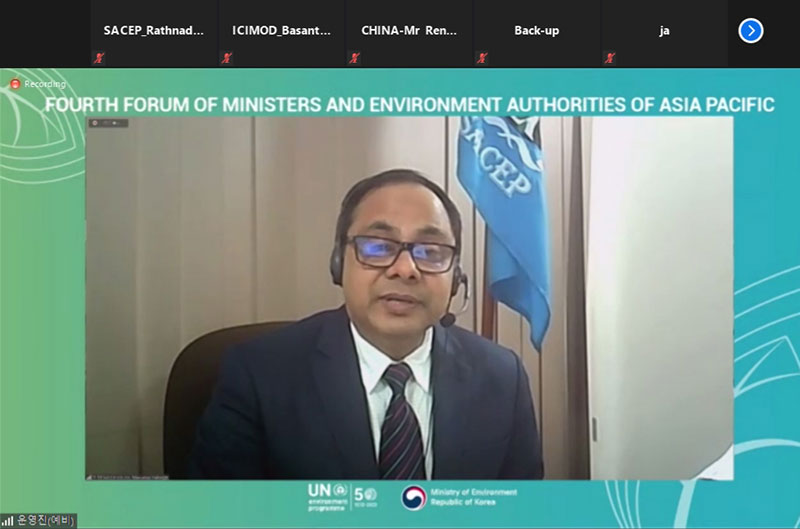 The United Nations Environment Programme (UNEP) and the Ministry of Environment of the Republic of Korea, jointly organized the fourth session of the Forum of Ministers and Environment Authorities of Asia Pacific from 6 to 7 October 2021. The high-level segment of the Forum convened both on-site and virtually: The Senior Officials' Meeting on 6 October, followed by the Ministerial Segment on 7 October at the Suwon City, Republic of Korea.
The Forum served as an ideal platform for the Member States and other stakeholders to contribute regional perspectives to the resumed fifth session of the United Nations Environment Assembly (UNEA-5.2) to be held from 28 February to 2 March 2022 as well as to the Special Session of the United Nations Environment Assembly to mark the 50th anniversary of UNEP on 3 - 4 March 2022 in Nairobi, Kenya.
Dr. Md. Masumur Rahman, Director General and Mr. W. K. Rathnadeera, Senior Programme officer of SACEP participated virtually in this Forum and informed how well the SACEP is implementing related UN Environment Assembly resolutions, and strengthening actions for nature to achieve the Sustainable Development Goals. The Director General delivered a statement by focusing on UNEA-5's theme: "Strengthening Actions for Nature to achieve the Sustainable Development Goals". In his statement, he highlighted the SACEP's progress on implementation of UNEA resolutions in terms of Sustainable Nitrogen Management and the management of plastic waste.