SACEP Member-States Support the Plastic Free Rivers and Seas for South Asia Project
---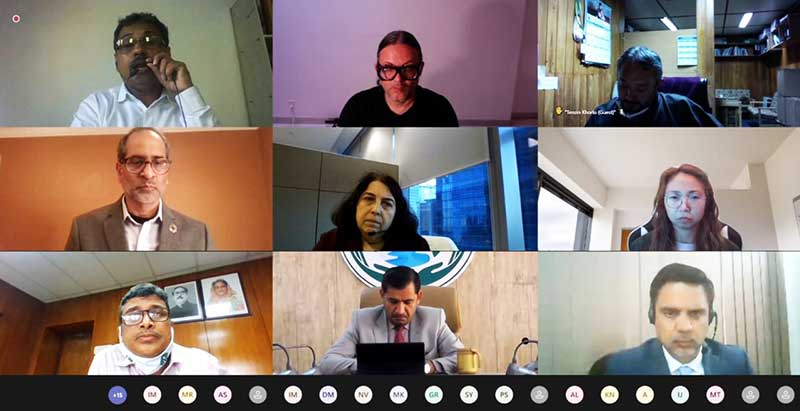 The South Asia Cooperative Environment Program (SACEP), the World Bank, and Parley for the Oceans virtually visited the environmental authorities of the SACEP member-states from February 18 to March 31, 2021. They discussed the objectives, funding, and implementation of the Plastic Free Rivers and Seas for South Asia (PLEASE) as a regional environmental project. Following the individual country-meetings, the SACEP Secretariat virtually hosted the Wrap-up Meeting on March 31, 2021.
The Secretaries of Ministry of Environment of all eight SACEP member-states participated in the Wrap-up Meeting, reflecting on the importance of the PLEASE project to helping address the region-wide challenge of plastic pollution. They reaffirmed their commitment to and support for achieving the goals of the Plastic Free Rivers and Seas for South Asia, which was approved for implementation at the SACEP Governing Council Meeting in November 2019.
The ultimate objective of the project is to strengthen innovation and coordination of circular economy solutions to plastic pollution, flowing into South Asian rivers and seas. In his remarks at the Wrap-up Meeting, SACEP Director-General Ambassador M. Ashraf Haidari said, "we are grateful to the World Bank and Parley for the Oceans for providing a grant of USD $50 million for the PLEASE project and selecting SACEP as an implementing partner. This win-win partnership entails many co-benefits, including capacity-building on both sides to undertake similar and larger projects for co-implementation in the future."
The Director-General added "In this light, I wish to call upon our member-states to follow suit by increasing their contributions to SACEP. Additional financial and human resources support from our member-states in accordance with their means would enable us to build manifold on our many successes so far, as well as on the lessons we will have learned from co-implementing projects such as the PLEASE."
Plastic pollution is everywhere: in the air we breathe, in the glacial ice on the Mount Everest, in the water we drink, and in the fish we eat. And all this harms environment, biodiversity, livelihoods, and public health across South Asia. Consequently, both the mountain economies (Afghanistan, Bhutan, and Nepal) and the ocean economies (Bangladesh, India, Maldives, Pakistan, and Sri Lanka) of South Asia will benefit from the implementation of the PLEASE.
Read the closing remarks by the SACEP Director-General at the Wrap-up Meeting HERE.