Remarks by Director-General Ambassador M. Ashraf Haidari at the Pre COP26 "Nitrogen for Climate and Green Recovery" April 27-29, 2021, Colombo – Sri Lanka
---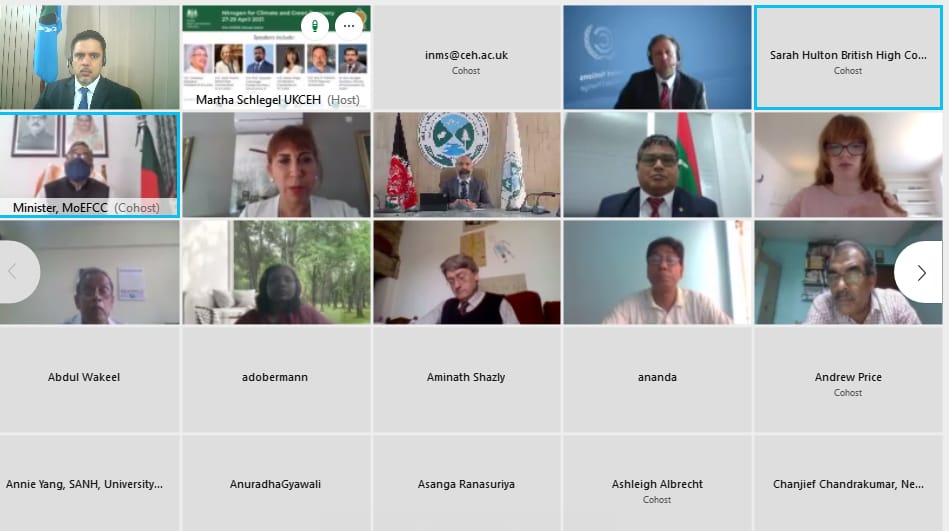 Remarks by H.E. SACEP Director-General Ambassador M. Ashraf Haidari at the Pre COP26 "Nitrogen for Climate and Green Recovery" April 27-29, 2021, Colombo – Sri Lanka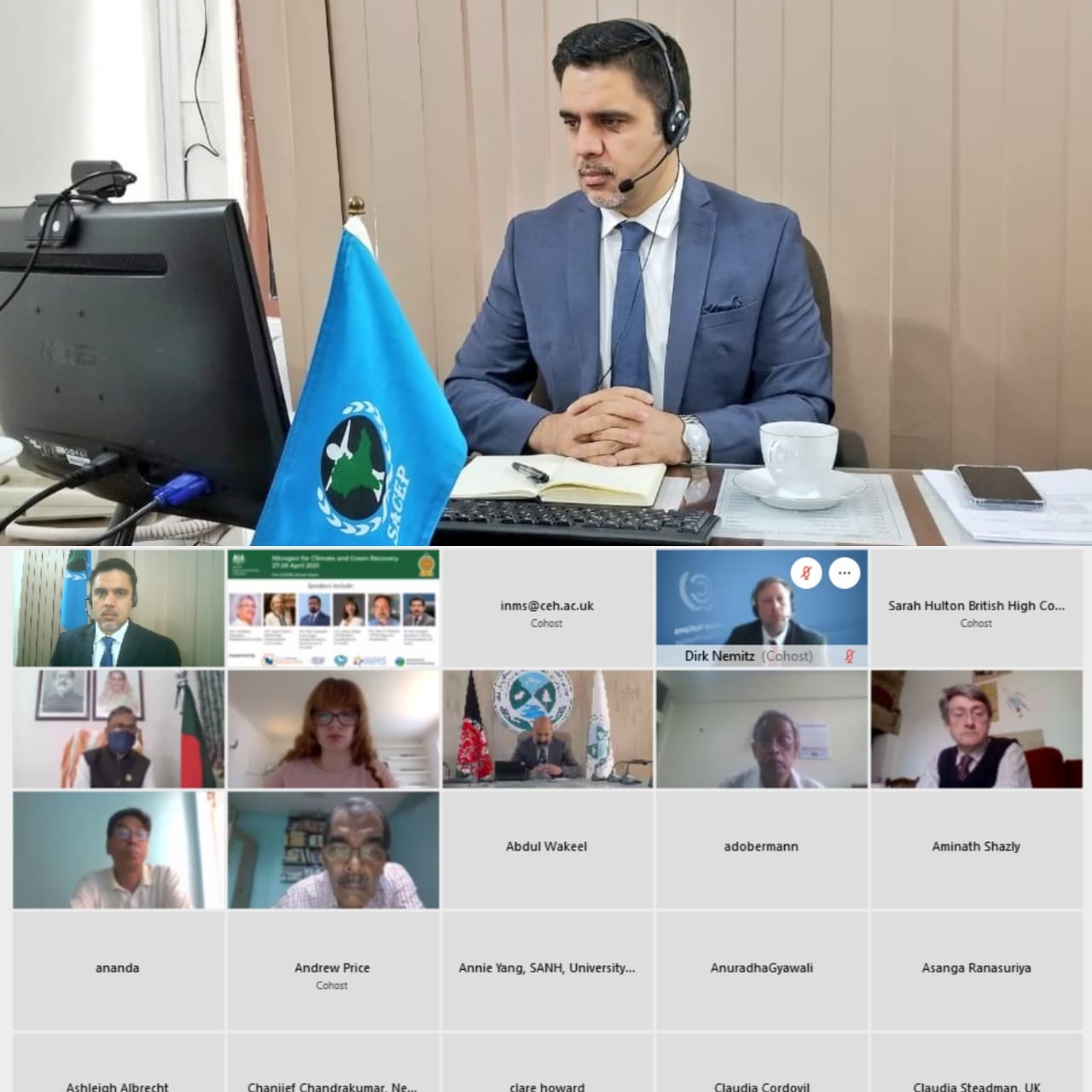 The Honorable Foreign Minister Dinesh Gunawardena,
Her Excellency High Commissioner Sarah Hulton,
Excellencies and Ministerial Heads of Delegation,
Distinguished Scientists,
Ladies and Gentlemen,
First of all, I wish to express our gratitude at the South Asia Cooperative Environment Program (SACEP) to the esteemed Government of Sri Lanka, the British High Commission, and the South Asia Nitrogen Hub for organizing our pre-COP26 (the UN Climate Change Conference) gathering for the next couple of days. And I thank the organizers for the opportunity to say a few words, reiterating what has already been highlighted today.
Indeed, climate change is one of the key threats to humanity. In South Asia as one of the most vulnerable regions to global warming, climate change puts at risk the very lives and livelihoods of hundreds of millions of our impoverished peoples across the region. That is why the targets set in the Paris Agreement are not just aspirational but needed to ensure our collective survival in South Asia. The consequences of not meeting those targets are laid out in the recent Intergovernmental Panel on Climate Change (IPCC) reports, which elucidate how the global drive for net-zero emission is necessary to avoid the worst-case scenarios. Sadly, South Asia has already begun experiencing some of those worst-case scenarios from mountainous Afghanistan and Nepal to Coastal India and Pakistan where human security remains under constant attack from the adverse effects of climate change.
Consequently, to help achieve the Paris Agreement targets and the purpose of the UN Framework Convention on Climate Change (UNFCCC), it is important to address nitrogen along with carbon. Needless to say, nitrogen is everywhere and invisible: it is in the air; in the water; in the soil; and in the life around us.
While nitrogen is an essential element for life, reactive nitrogen due to human interventions has become too excessive. This directly pollutes water, air, ecosystems, and soils, while its greenhouse effect greatly contributes to climate change.
Ladies and Gentlemen,
In a global context, South Asia is one of the hotspots for nitrogen pollution. Regionally, the sources of nitrogen pollution are mainly direct and indirect emissions from soils, combustion for electricity and heat, transport, and industries. At SACEP, we know that emissions from different sectors differ in each of our member-states and it is all driven by very different sets of national circumstances. At the same time, however, we know that the impact and pollution from nitrogen does not stop at national borders. It has contributed to severe environmental and public health pressures in South Asia. That is why the best way to address the challenge of nitrogen pollution is through much more enhanced regional cooperation and coordination. As a collective goal, this needs to be achieved by multi-ministerial actions and multi-country collaboration.
Ladies and Gentlemen,
The South Asian countries have been among the earliest to have taken the initiative in addressing nitrogen pollution. Early actions include the establishment of the South Asian Nitrogen Centre (SANC) of the International Nitrogen Initiative (INI) in 2008.
A Resolution on Sustainable Nitrogen Management led by India was adopted in the Fourth Session of the United Nations Environment Assembly in 2019. And this was followed up by the Colombo Declaration on sustainable nitrogen management.
Ongoing efforts by SACEP in partnership with the South Asia Nitrogen Hub to deliver on the Nitrogen Policy Framework for South Asia at the behest of the SACEP member-states is an example, which demonstrates the South Asian governments' eagerness and political will to address the challenge of nitrogen pollution and its sustainable management.
However, I also wish to acknowledge the barriers and gaps that exist in deploying effective solutions at the ground level. They include a lack of awareness of nitrogen pollution, a lack of research and knowledge, a lack of cost-effective technologies, as well as a lack of adequate financing. In other words, there is a serious gap of means of implementation, which needs to be bridged to match the political enthusiasm for sustainable nitrogen management to see tangible policy interventions and outcomes.
To that end, I assure Your Excellencies of our firm commitment at SACEP to further facilitating regional cooperation and coordination among our eight-member states to address the challenge of nitrogen pollution. This effort should make a notable collective contribution to the implementation of the Paris Agreement targets, as we all prepare for a results-driven COP26.
Thank you very much!