Director-General Ambassador Haidari Calls on HE First Vice President Saleh to Discuss Afghanistan's Environmental Vulnerabilities
---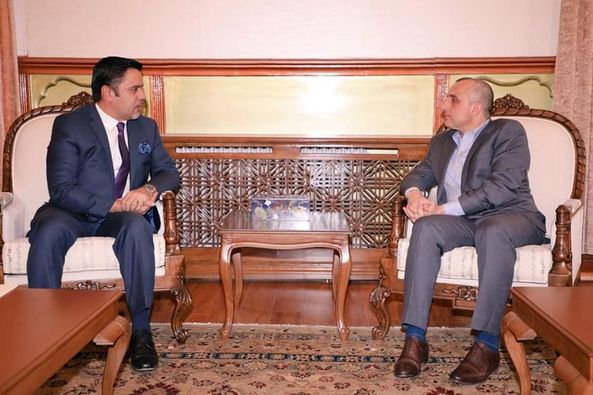 Kabul: - Director-General Ambassador M. Ashraf Haidari paid a courtesy visit to H.E. Amrullah Saleh, the First Vice President of the Islamic Republic of Afghanistan, during his recent official trip to the country. The First Vice President welcomed efforts by the South Asia Cooperative Environment Program (SACEP) to help its member-states, including Afghanistan, address the global challenge of climate change, to which South Asia remains extremely vulnerable.
The Director-General pointed out his meetings with other senior officials of the Government of Afghanistan, including with the technical personnel of the National Environmental Protection Agency of Afghanistan (NEPA), and appreciated the attention paid by H.E. President Mohammad Ashraf Ghani to formulating effective policies, regulations, and action plans for mitigating and adapting to the climate change. They also discussed the impact of climate change on national security in the Afghan context where protracted internally displaced persons have severely been affected by the recent climate-change-induced flush floods in several Afghan provinces where conflict and violence too have affected civilians.
The First Vice President inquired of SACEP's assistance programs, which Director-General Haidari discussed, including the implementation by SACEP of the Plastic Free Rivers and Seas for South Asia (PLEASE) project, generously funded by the World Bank and Parley for the Oceans. He said that the five-year project aimed at providing public, private, and non-profit institutions with regional block grant investments for recycling and upcycling plastic waste, while helping SACEP's national focal points address their capacity needs with regards to effective plastic waste management.
The Director-General thanked H.E. First Vice President Saleh for Afghanistan's active participation in all activities of SACEP, including facilitating his productive visit to Afghanistan.
***